Trainers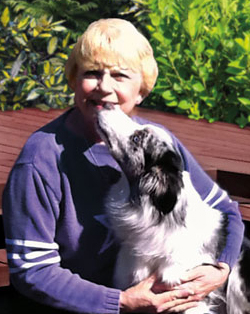 Sue Mills-Kothe, Owner & Founder

I have been training dogs for over 40 years. To date, we have trained more than 13,000 dogs from over 100 breeds. My goal is to provide the best training environment available to ensure you have the best relationship possible with your dog. Training is a commitment that takes time and energy to achieve a good companion.

Total Recall will help you attain any level of training you wish to reach with your dog. A trained dog is a joy to own and much more fulfilling! Proper training will prevent future problems and cure current ones. I am currently showing 6 dogs in Agility, Obedience and Conformation.

My accomplishments include two Obedience Trial Champions, "Mikie" & "Shelby", eleven Champions in three different breeds, "Border Collie", "Malinois" & "Papillons", three Master Agility Champions, "Hayley", "London" & "Bravo", the first AKC Utility Dog Rottweiler in Minnesota, "Sam" and the first Border Collie in Minnesota to earn the titles of Champion, Obedience Trial Champion, and Utility Dog Excellent, "Shelby".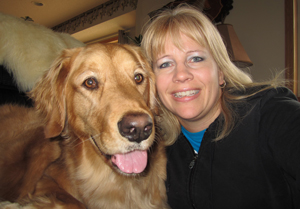 Toni Ketola

My Golden Retriever, Cedar, and I have been at Total Recall since 2006, but I have been training dogs for just over 20 years. I often assist Sue in the Beginner classes where I can give students more individual attention. You will also find me and Cedar, in Agility classes and the Advanced Obedience classes. From everyday problems to preparing for competitions, I find training challenging and extremely rewarding!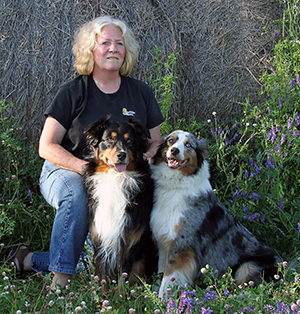 Grete Krause

I have been training dogs for over 35 years and titled my first dog when I was 14 years old. I have been a trainer at Total Recall since 1997 teaching Puppy, Beginner, Conformation, and Therapy Dog classes. I am also a certified Invisible Fence trainer and train service dogs.

My skills as a trainer have come from my years of training people and their dogs, and attending many seminars over the years. I like to train dogs because they are such bright creatures and it's fun to watch how they learn. Training is an important component in establishing a leadership role with your dog, and it can provide you with a life-long relationship with your companion.

I've bred Australian Shepherds for over 30 years, but I also own labs. I always have a rescue dog in my home, too. In my spare time I enjoy teaching my dogs new tricks and gardening.

GloriJean (GJ) Harper

I first started training in 1994 with my first Samoyed. I began teaching Beginner Agility at Total Recall in 2005. My current focus with my own dogs is Agility and Conformation. I enjoy workings with my dogs because I think it improves our rapport. Training is a great way to socialize a dog and build their confidence.

I am a Samoyed breeder (Tundra Ice Samoyeds), and I am owned by my Samoyeds, Windy, Taiga, Reggie, Denali, Glacie and my Papillon, Diva. My dogs have titled in Conformation, Agility, and Sheep Herding. In addition to competing in agility and conformation, I participate in weight pull, dog sledding, hiking, and sheep herding whenever I can. I also like to do dog photography, landscape, and wildlife photography.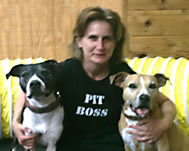 Laurie Hocking

I began training animals when I was very young. I grew up with horses, German Shepherds and GSD mixes, and started working my first puppy when I was 8 years old. In 2001, I adopted my first Pit Bull Terrier from a rescue group and signed up for classes at Total Recall.
I currently have two Pit Bulls, Brock and Scrappy. I started teaching Scrappy tricks as a puppy after being impressed with tricks other dogs knew. I found that she was a great student and learned new tricks very fast. In 2007, Sue asked me to teach a trick class at Total Recall, and I've been doing it ever since. Teaching a dog a trick really motivates the dog and gives them confidence. I'm always trying to come up with something new to incorporate into my classes. I especially enjoy the challenge of breaking down a big trick into easy to learn steps for the dogs. My classes are geared towards having fun-- for both dogs and humans!
Scrappy is retired now, but has titles in Agility and Rally, and she also has her Canine Good Citizen (CGC) and Therapy Dog Internationl (TDI) certificates. Brock is 4 years old and has titled in Rally, competes in Agility, and also has his CGC and TDI. We do a lot of work for Pit Bull rescue, in addition to therapy dog demos at schools and other events. We hope to dispel the myths and prejudice against Pit Bulls through this commuity work. Brock's true love, though, is dock diving and we're working towards becoming competitive in the near future.
I also own two older Arabian horses David and Shabazz, three cats, Taia, Dartz and Rompy, and I usually have 1-2 mixed breed foster puppies at any given time as well. In my spare time I like to swim the dogs and practice dog diving, train and socialize the fosters pups, attend therapy dog demos, and of course, teach the dogs a new trick!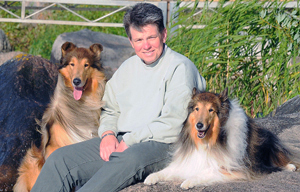 Deanna Levenhagen

I've been training dogs for over 15 years. I found Total Recall when I moved to MN in 2002 and began teaching here in 2007. I train for Obedience, Rally, Agility, Herding, Conformation, & Pet Therapy. I am also a certified CGC evaluator, and my dogs are certified in pet therapy work through TDI (Therapy Dogs International). I own Rough Collies, Logan and Hayden, and they've earned advanced titles in Obedience, Rally, Herding, and Agility.
I  was once asked what advice I would give a newcomer to training and competing.  Here are some reasons why I think training is important:
Never stop learning.  Take each opportunity to learn about yourself, your dog, the training, and different environments.

Have your own goals--regardless of your level of training. Many different methods can be used to reach your goal.

Training is never really done. There is always something that can be improved or fine tuned.

Don't cut corners or expect quick solutions to problems. Be patient and take your time.

Don't avoid your or your dog's weaknesses. Continue to train to make them better.

Don't forget why you do this!  This is about sharing time and bonding with your dog. HAVE FUN!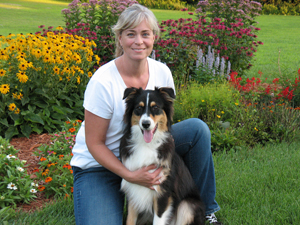 Wendy Olsen
I began as a student of Total Recall back in 1996 with my first Australian Shepherd. As a new dog owner, Total Recall provided me with the skills to manage this active breed. All the trainers here are knowledgeable and caring. It's a great envirionment for socialization for both people and dogs, and there's always someone willing to take the time to answer any question you might have.

I'm currently on my third Aussie (Piper) shown here. He is proving to be my ultimate challenge as each dog has had their own little personality and attitude! I'm thankful for all the training techniques and tricks I've picked up over the years, and I expect Piper to be as great as the other dogs I've owned.

As a former Band Director, my background is in Music Education where I spent 10 years teaching in both public and private schools. In my spare time I enjoy web design, gardening, crocheting, and working construction with Habitat for Humanity.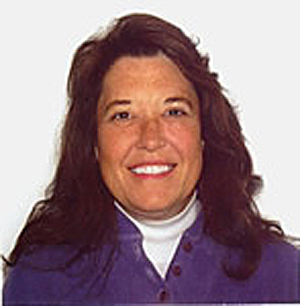 Lori Purdy
I started training my first dog, a Cocker Spaniel in 1991, and have been teaching Agility classes at Total Recall since 1994. Though currently an Agility instructor at Total Recall, through the years I have trained and shown my dogs in Breed, Obedience, Flyball, Therapy, and Agility. I have been judging AKC Agility since 1996, and NADAC Agility since 2000.
Right now I own an English Springer Spaniel and a Manchester Terrier, but I have also owned American Cocker Spaniels and a Doberman Pinscher.  They all have earned titles in Breed, Flyball and Agility, including owning the first Manchester Terrier to ever title in Flyball, having the top pointed flyball cocker in the country, and putting both a MACH and NATCH titles on a dog. I have also competed in several national competitions, and judged the AKC Invitational in 2007. I show and judge at least two weekends every month, along with teaching once a week.
What I find most enjoyable about teaching is watching the dogs and handlers learn new things and apply that knowlege to their next lesson. I like to see them succeed in the sport--especially if they choose to compete. In my spare time, I enjoy traveling, cooking (which includes some party catering and cake decorating) and training my own dogs.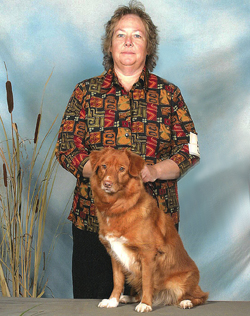 Barb Rohr
I am an Assistant Trainer at Total Recall and have been training dogs for 17 years. I enjoy competing in Obedience and Rally. Training is a rewarding hobby and is a physical sign of personal accomplishment. My dogs are my best friends and we like doing things together.

I am a breeder of Novia Scotia Duck Tolling Retrievers (Toller dogs) and I have three females . All are champions, and one is a grand champion. We have accumulated a CD and CDX, RE, NA, NAJ, JH and CA. In my spare time I enjoy reading.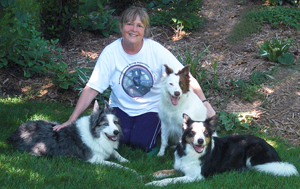 Dianne White
My husband, Cliff, and I have been teaching Agility classes at Total Recall since 2009. Our training objective for our own dogs, as well as all dogs we train in class, is for the dogs to become a healthy, happy, productive companion. We believe in focusing on relationship building through safe, structured training. We enjoy sharing in the development and achievements of all dogs that pass through our classes.We especially enjoy seeing dogs master new tasks, and watching the handler and dog become a working team.

Presently, we own three Border Collies, Millie, Comet and Neverbe (Nevi).  They all have been trained at Total Recall over the past twelve years.  Cliff started with Millie when she was a puppy, and she went on to become a Master Agility Champion (MACH)--an amazing five times!   She is also a therapy dog and loves to play Frisbee and show off her tricks to a crowd.  Millie still competes in agility at the Preferred Level and has taken up Tracking as a retirement project.

I own Comet, a tri-colored Border Collie bred by Total Recall owner, Sue Mills-Kothe.  Comet competes in both Agility and Obedience, and is currently working on his Master Agility Championship in Agility, and his Utility Dog title in Obedience. Neverbe is a white border collie that Cliff is running in Agility, and I train and compete with her in Obedience.  Nevi is currently working at the Excellent Level in Agility, and is showing in Open Obedience. Whenever we graduate puppies from my puppy class, they usually get a gift pack of my homemade Fish Fudge. Dogs love it!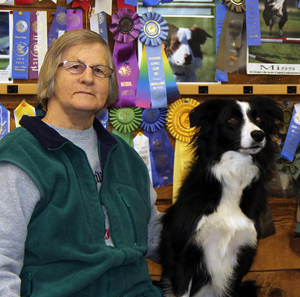 Eileen Varhalla
I work the front desk at Total Recall and have been training dogs for 50 years. I assist with training at the school when needed and lead run-throughs. I have been training with Total Recall since it began. I'm also the obedience trainer for the German Shepherd Club. I like to train Obedience, Agility, Herding, and Tracking. I love the challenge of working the dogs and it keeps a person healthy!

German Shepherds are my breed of dog, but I also own three Border Collies. I have showed and titled dogs in Obedience, Herding, Tracking, and Rally. In addition to my canine friends, I raise Cockatiels, finches, and canaries. I love birds! I also raise chickens for eggs. When I have spare time, it is spent with the animals.